Camino de Santiago or Camino Francés
is an ancient pilgrimage trail, in use for over 1000 years. There is a belief that St. James the disciple's bones were found in northern Spain, and are interred in the cathedral in Santiago de Compostela, Spain. People would travel there to get forgiveness for their sins. The tradition goes on today, and in Spain there is a system of refugios - similar to youth hostels, that provide shelter for pilgrims for a minimal fee or contribution.

See Map of route in Spain. For a larger area map showing all routes from Europe, see the map from our Pilgrim Passport, that we got in Roncesvalles. If starting from Le Puy in France, or from Portugal, go to our third Camino page.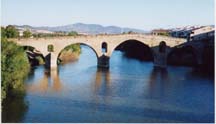 Spain is just the end point of the trail. There are trails from all parts of Europe, that merge as they go into Spain. The Spanish part of the trail is about 450 miles. The pilgrims today do it for various motives - religious, spiritual, other personal reasons. Do read Nancy Frey's book for a good sense of who the modern day pilgrims are and why they do it.

. Very few do it for frivolous reasons. You just carry a sleeping bag and personal gear, as shelter is available and you can buy food in the villages along the way. Even with this, we as experienced backpackers, found it to be a demanding trip. It is easy to get caught up in a refugio mentality - eager to get to the next one in time to get a bed. You can only stay one night, and usually have to be out by 8am the next day. There are a number of good web sites with more info, and for English speakers, a few classic books. Click here for a site with pictures of the route - (not ours).
Authors, Publishers, if you have a new English language Camino book that you think is appropriate for this list, please send a review copy to us - address on the Contact Us page
To get a feel for the route, watch our Camino de Santiago YouTube video.
There are two well known ones that need to be mentioned, even though they both are a mixture of trail experiences common to all pilgrims, and some other experiences that include visits with spirits of pilgrims past. They both make interesting related reading, but for those new to the Camino, be aware that these are in no way practical guides.
For the day by day walking, you must take the Confraternity of St. James guide in the following list. I recommend that you also take the John Brierley Camino Francés guide. If you want to understand the historical significance of the areas you walk through. I suggest that you buy Gitlitz and Davidson before you go, and take some parts of it with you or carry their Kindle edition.
Walker's/Cyclist's Guides
Camino Francés to Finisterre
Le Puy Route and France Guides
Camino Portugués Guides
Via de la Plata
Camino Norte, Primitivo, Inglés, and Finisterre guides
History and Academic accounts
Relevant Background on Spain, but not just Camino
Personal Accounts or a combination of personal and historical
Fiction
Somewhat Camino Related and/or other Pilgrimage routes
Music or DVD's
Authors, Publishers, if you have a new English language Camino book that you think is appropriate for this list, please send a review copy to us - address on the Contact Us page
Gear
Our most recent detailed gear list is on Camino Norte Packlist, but here are the highlights: Keep your total weight to under 20 pounds. This is doable with a backpack 2 lbs or less (ULA OHM, Gossamer Gear G4 or Mariposa or Granite Gear Crown) and sleeping bag under 2 lbs - doesn't need to be a warm one (Western Mountaineering MityLite $325, REI Travel Down $139, Kelty Cosmic Down 40 $130-). Carry breathable first aid tape in case of hot spots on feet - helps avoid blisters. (google for hartmann omnifix to find 2 inch by 10 yd rolls), or available on Amazon from multiple sources. Kenesio Tex tape - 1 inch and 2 inch widths. We just learned about this stretchy breathable tape from John Vonhof's newsletter, and ordered some from Amazon. Ok, but doesn't work as well for us as Omnifix above. Shirt, shorts, pants, socks should be fast drying synthetic material. Plan on washing clothes every night. Use hiking sticks, lightweight boots or low top trail runners such as NB 806 if your ankles don't need the high top support. I prefer trail runners but did 150 miles in France in May - a lot of wet walking, and loved my Lowa Renegade gortex lined boots - feet stayed dry the entire time. I recommend getting boots at your local outdoor store to insure a good fit - get at least a half size larger than shoe size, as feet swell when hiking in hot weather or with a backpack. If you have to mailorder and would like to help this site, click through to Amazon or REI from one of the links above or here to do your purchase.